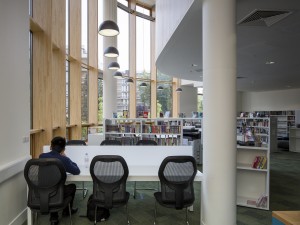 Welcome to UCL Academy Library
The Library aims to inspire and support all teaching and learning within the school community. Our belief is that reading brings enjoyment and offers the key skill for lifelong learning, with the power to transform lives. The library actively supports and promotes reading for pleasure and information. All students are welcome to come to the library to study,complete homework, read or borrow resources.
Opening Times: Monday – Friday 8.15am – 4.30pm
Events:
On Wednesday 4th March, 14 of us ( 12 pupils and 2 members of staff) visited UCS to hear a talk from the author Charlie Fletcher. Charlie has worked extensively in film editing for the BBC and continues to write for the movies and television, but he has also built a growing reputation as an author. This event was to celebrate and promote the launch of his second book in the Dragon Shield series, Dragon Shield 2: London Pride.
Each of the pupils who attended have received a signed copy of Dragon Shield.
Carnegie Medal
The Carnegie Medal is awarded annually to the writer of an outstanding book for children. To find out more visit www.carnegiegreenaway.org.uk
What we offer
We offer students appropriate resources and support them in a calm and friendly environment. Resources are selected for use within the curriculum and in liaison with departments. A growing range of fiction and non-fiction books is available.
Students and staff can reserve books and leave reviews by logging into the library system at https://u015445.microlibrarian.net
Other Useful reading sites:
www.theguardian.com/childrens-book-site
Local Connections
The London Borough of Camden provides an online reference library through their website www.camden.gov.uk/libraries
You can access major encyclopedias, reference books and newspapers free of charge using your Camden library card